Climb a mountain, trek through a jungle, learn a skill
Take on your challenge of a lifetime for Women for Women International
---
Women on a Mission 
Women on a Mission is a non-profit organisation based in Singapore, which combines challenging expeditionary travel with the support of humanitarian causes. Previously, WOAM have organised treks to Everest Base Camp, and the Desert of Wadi Rum in Jordan.
In November 2014, a group of 9 women embarked on a 13 day trek to the sacred Tsum Valley of Nepal in the Himalayas, in an effort to raise awareness and funds for women survivors of war, victims of violence and rape.  In 2015, they braved the arctic circle with the Nenets reindeer herders of Siberia. They have raised over £200,000 for our work with women survivors of war - an incredible achievement. Read about their journey here.
Christine Amour-Levar, co-founder of Women on a Mission said: "Ultimately, we embarked on this journey to support other mothers, daughters, and sisters whose lives have been ripped apart by the horrors of war... Doing something out of the ordinary and dedicating it to these brave women made us feel like we were standing in solidarity with them, and it gave us wings as we climbed higher."
---
Selina McCole runs the Marathon des Sables
The Marathon des Sables (MDS) is a 156 mile race and known as the toughest footrace on earth. Competitors carry everything they need for the week on their back except water (collected at checkpoints) and a shared tent, and survive in temperatures up to 50 degrees Celsius (122 degrees Fahrenheit). It's a race Selina had been thinking about for more than a decade and preparing for a year.  Read her story here.
"Having been blessed with peace, freedom and opportunity, I feel a sense of duty to help women who have not enjoyed such privileges, and who through no fault of their own have suffered terrible losses and must feel as if the outside world has forgotten about them. I want them to know that there are people who care about them, who want to help them rebuild their lives, and who want to empower them to hope for a better future." Selina McCole
---
Les Soeurs Anglaises
Situated in a stunning location in South West France, Les Soeurs Anglaises (LSA) are the 'go-to' destination for anyone with a passion for improving or learning a textile crafts-based skill. Their workshops provide the skills to transform basic materials into covetable heritage pieces under the guidance of experts such as the renowned artist India Flint. 
LSA is currently sponsoring a year long Women for Women International training course in South Sudan, a country in which two of the Les Soeurs team were born. In July 2015, LSA hosted a Fete de Boogie Woogie event,  which raised over £4,000 for our work with women survivors of war. 
"We are delighted to be supporting such a worthwhile charity as Women for Women International with which we have so much synergy, both as a business run by women and as specialists in textiles, a sector in which many of the WfWI participants are being trained.  Most importantly, Women for Women International offers their participants skills to provide them with a sustainable future."  Katie Elliott Armitage, founder of LSA
Find out more about Les Soeurs Anglaises on their website www.lessoeursanglaises.com
---
Beatrice and Josie's story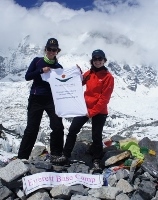 "Last May, we decided to take on the exciting challenge of trekking to Mount Everest Base Camp via the Gokyo Lakes in Nepal.
It was a long 18-day trip, and despite a few hiccups which included avalanches and landslides, we finally made it to Base Camp. Upon arrival, the feeling of pride we had was incomparable to any other feeling, not only because we had overcome a personal challenge but also because we had achieved this for a charity we truly felt passionate about.
We chose Women for Women International as this charity had an ethos which we really supported; we were especially keen to help women through their 'sponsor a sister' programme and to help empower individual women in war stricken countries, by providing them with the skills and resources which can set them up for life.
We now have two sisters of our own with whom we can keep in touch whilst both our mothers also have sisters. We are sure that with our achievement, they will succeed in the coming year!"
Together, Beatrice and Josie have raised almost £4,000 for the women we support in eight countries. You could take on the challenge of a lifetime like Beatrice and Josie - call Jessie on 0207 922 7772 to find out more. 
---
Fundraising
Our preferred online fundraising partner is VirginMoneyGiving. Not only is their fundraising website 100% not-for-profit, but all Gift Aid is passed onto us in full. Set up your fundraising page now.